[The introduction to this post used to describe a situation between my sister and one of her lecturers at UoA. Now that the situation has been resolved, my sister has asked me to take those paragraphs down. If I have time soon, I will amend the opening so that the whole post reads smoothly again. Until then, I apologise for the current botched version.]
...I did my Bachelor's at the same university as my sister, and I had my fair share of ignorant, conceited and worthless lecturers. One of my lecturers gave me a failing grade four times -- his was the last module I needed to pass in order to graduate, and I had to beg him and explain I'd been accepted in a UK university for a Master's in order to pass. The same lecturer once famously decided that he would change the examination process (switch from open to closed books) for his module... on the day of the exams.
("My name is Rick Perry and I approve of Noel's ex-lecturer.")
Another lecturer used to teach Modern Philosophy -- and he decided that the only books we needed to read were books written by him. I should explain: not books written by him describing modern philosophical currents and theories... nooooo, philosophical books written by him. The entire module was practically a flourish of complacent self-praise, an ode to the lecturer's self-imposed glory.
(I've no doubt the only reason he throws exams for his module
is because he needs to refresh his masturbatory material every year.)
To be fair, of course, I did have some excellent lecturers as well (including, but not limited to the two people who gave me my letters of recommendation for my MA.) But the whole Greek university system is preposterous, sad and infuriating. How the hell does a lecturer like my sister's get away with this? How does a lecturer get away with creating an entire module based on his own random theories?
(I'm surprised my ex-lecturer didn't turn up like this in class.)
And then there are the other small things. When I moved to Canterbury to study, I was amazed to find out that there was a student society for everything. My friends and I constantly made fun of it, often referring to the "Hedgehog Appreciation Society" as a token of ridiculousness -- but the truth is, there were many useful societies as well, many societies that you could actually use your participation in later on to boost your CV.
In Greece? In Greece we have political parties.
(Colin Farrell is convinced I have a case here.)
Or the book system? Everyone in Canterbury was amazed that Greek students are entitled to free books at university. But here's the thing: we're entitled to one book per module. I dunno about you, but I had to read at least ten books per module at my postgraduate, and consult at least twenty more. One book per module is ridiculous.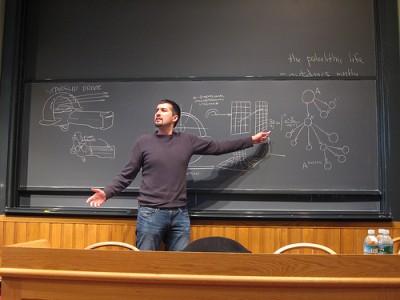 ("Welcome to English Literature in the 19th century.
The only book you're entitled to read is The Old Curiosity Shop.
Don't worry, we'll figure out the rest with drawings and shit.")
And the libraries? Templeman Library at UKC wasn't great, but it was four fucking floors of not great. My department's library at UoA consisted of a room that's smaller than my parents' living-room and the only books they had were the books we'd already been given for free. Oh, and the opening times? 10am-4pm... Monday to Friday.
(We also had a computer with free internet access.)
Don't get me wrong, I did learn a few things at UoA, and I'm aware that bitching about a university course you paid nothing for is bordering on provocative when others have to pay £9000 per annum for their education. In fact, because I paid for my MA course, I'm much more critical towards the university and what they offered. (For example, it's infuriating that UKC has not gotten back to us with our dissertation results three months after we submitted. Also, their finance office should be publicly shamed for their practices with regards to accommodation deposits. And those are just the tip of the iceberg called 'Kent'.)
But that doesn't change the fact that Greek universities are incredibly fucked up -- and there are those who struggle to gain or offer something despite that, and those who profit from it... like my sister's lecturer, or those students who still haven't graduated after having been enrolled for nearly a decade or more.
I'm grateful for it being free. But you know what? It would've required quite a lot of nerve to ask for money for what we were offered. Maybe Greek universities would benefit from charging -- just as long as they became privately run, as well. If they remained public and charged, the money would most probably go straight into the MPs' bank accounts -- but that's a different story, and I'll get back to it.
(I'm sure you all look forward to it.)